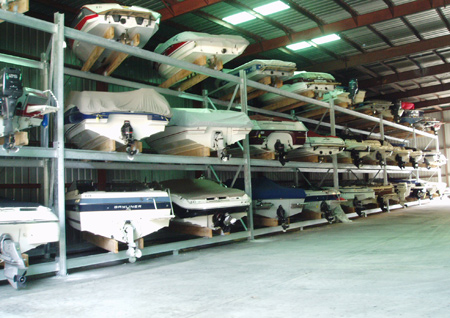 "Lazy Days Marina Decides That Bigger is Better When It Comes To Dry Storage" was published by Marina Dock Age in the May/June 2005 issue. "More and more boaters were trading up to larger boats that we couldn't accommodate. Our racks were beginning to show their age and we had an increasing amount of rack spaces we couldn't use", said owner Doug Beachem. Due to angling the racks, the overall capacity decreased to 554 boats, however, the average length of boats to be stored increased 3′-0". The end result was higher revenues for the marina.
"The decision to offer seasonal storage" was published by Boat & Motor Dealer in the August 1999 issue. This article focused on a marina's decision-making process regarding dry stack storage. For more information, visit www.boatmotordealer.com.
According to Richard Fabri, owner of Capri Marine on Lake Wallenpaupak, PA., "One key reason for putting up racks is that it gives you extra space. We're able to provide the increasing demand for winter storage with limited land costs". Capri Marine has over 200 boats in covered storage provided by Coastal Marine.
According to Mark Kale, owner of Lake Norman Marina, Denver, NC.; "The dry stack will really help us streamline our operation. Placing boats in a rack system improves the physical appearance of our boatyard. Every boatyard can profit from cleaning up its image". Coastal Marine provided three shed systems at Lake Norman Marina with total storage for 162 boats.
"The ins and outs of dry stack" was published by Marina World Magazine in the July/August 2001 issue. "Dry stack storage has become the logical, and often essential, answer to the increased demand for water access. Dry stack greatly increases the number of boats in a facility… The first and least expensive are free standing racks. They are generally the easiest to permit".
"Covered sheds include roof-covered systems, three-sided covered sheds and bow-to-bow covered sheds. All three are rack-supported structures, with the racks providing the main support of the building components".
"Fully enclosed buildings are considered the supreme dry storage structures, as they provide the maximum in boat security and protection from the elements… These buildings are either clear span with free standing racks or are rack-supported".
"Nuts and bolts of dry stack storage" appeared in the November 2001 issue of Marina Business Today. This article featured the basic building blocks in designing a dry stack system – unit, area and method. "The crucial element in designing a dry stack system is to identify the boats to be stored… One needs to know the available space for any dry stack system… Most dry stack applications use large marina forklifts to handle the boats… The other handling method is a stacker crane application".
"Reprinted with permission of Marina & Boatyard Today. For more information about the magazine, please visit www.mbtoday.com."
"Dry Stack Storage – An investment that is looking up" appeared in the January 2003 issue of Inside Self Storage. The purpose of this article was to introduce the niche market of dry stack to self-storage professionals. "The increase in boating popularity has resulted in a dramatic increase in the demand for water access… Dry stack boat storage is a logical answer to this increased demand… Even though traditional self-storage can buy propecia provide some relief of this demand, it is limited to ground level. By using the marina forklift to handle boats, off-water sites can accommodate double, triple or even quadruple the quantity of stored boats as the ground-level storage lot".
"Reprinted with permission from Inside Self-Storage, the premier magazine for self-storage professionals. For more information, visit www.insideselfstorage.com."